(Source: U.S. Customs and Border Protection)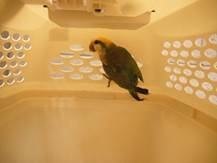 (Source: U.S. Customs and Border Protection)
NOGALES, AZ (CBS5) -
Authorities have seized a live pet parakeet found inside a camera bag about to make its way across the border.
Customs and Border Patrol agriculture specialists assigned to the Tucson Field Officer seized the animal under the Animal Health Protection Act.
The 41-year-old California man attempting to enter the U.S. with the bird was fined.
The bird was turned over to USDA-Veterinary Service.
CBP said all birds brought into the U.S., with the exception of Canada, must be quarantined for 30 days at a USDA bird quarantine facility.
Birds are regulated since they can carry the viral and bacterial diseases.
Copyright 2014 CBS 5 (KPHO Broadcasting Corporation). All rights reserved.