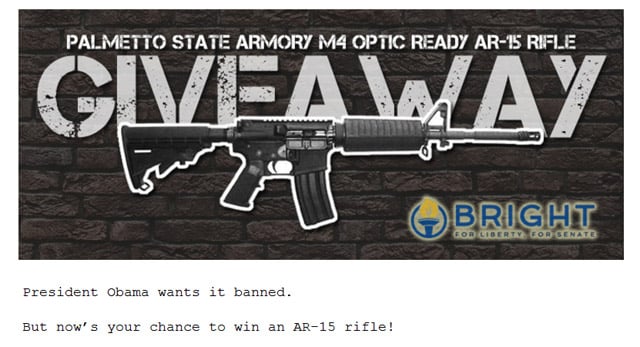 A screen grab of the contest website. (Source: brightforsenate.com)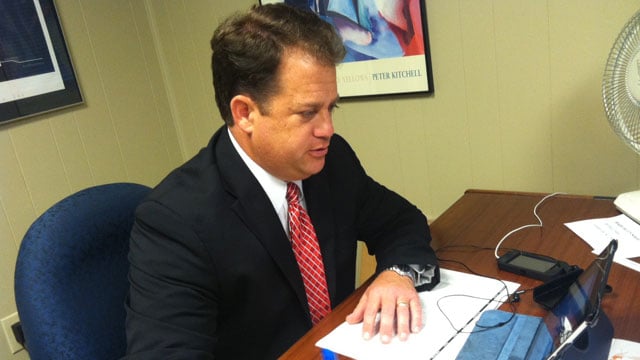 State Sen. Lee Bright at work at his Upstate office. (File/FOX Carolina)
GREENVILLE, SC (FOX Carolina) -
State Sen. Lee Bright, R-Spartanburg, is running for the U.S. Senate and as part of his campaign, he is holding a gun giveaway.
Bright's campaign sent out an email Thursday announcing the contest. In order to be entered, people are asked to fill out an online form here. They're also asked to pass along the word to their "pro-gun friend and family member."
According to the giveaway website, on Feb. 15 at 5 p.m. a random name will be drawn for the prize - a brand-new Palmetto Armory AR-15.
His email opens with saying how gun control supporters tried to use the Newtown, CT, shooting to pass new laws, but how strong supporters of the Second Amendment like himself kept them from winning. In the email, Bright said he is the, "Pro-gun, pro-Constitution candidate in this race for the U.S. Senate - and I can't think of a better way to get that word out than by giving away a brand new AR-15."
Bright also asked for donations for his campaign in the email. He is one of four Republicans challenging incumbent Sen. Lindsey Graham in the 2014 Senate race.
According to the contest website, the winner must be 18 years of age or older to be eligible and will have to pass a background check as required by law.
Copyright 2014 FOX Carolina (Meredith Corporation). All rights reserved.