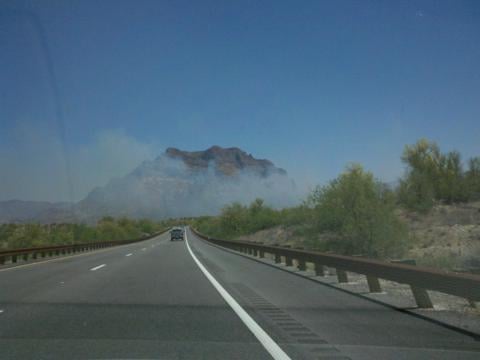 FILE PHOTO
PHOENIX (CBS5) -
The dry month we're experiencing may blow up the first significant dust storm of the year on Friday afternoon.
Strong winds are creating dusty conditions in parts of central and southern Arizona.
Meteorologist Katie Baker said Phoenix has recorded zero rain during the month of January, which has happened only four other times since records have been kept: 1912, 1924, 1972 and 2006.
ADOT is warning drivers the dry conditions could lower visibility and impact your weekend commute, especially for those traveling along Interstate 10 from Phoenix to Tucson and I-10 from Tucson to New Mexico.
ADOT and the Arizona Department of Public Safety recommends the following driving tips for dust storms:
Avoid driving into or through a dust storm.
If you encounter a dust storm, check traffic immediately around your vehicle (front, back and to the side) and begin slowing down.
Do not wait until poor visibility makes it difficult to safely pull off the roadway - do it as soon as possible. Completely exit the highway if you can, away from where other vehicles may travel.
Do not stop in a travel lane or in the emergency lane; look for a safe place to pull completely off the paved portion of the roadway.
Turn off all vehicle lights, including your emergency flashers.
Set your emergency brake and take your foot off the brake.
Stay in the vehicle with your seatbelts buckled and wait for the storm to pass.
Drivers of high-profile vehicles should be especially aware of changing weather conditions and travel at reduced speeds.
Be aware that any storm can cause power outages to overhead roadway lighting and traffic signals. Drive with caution and treat all intersections without signals as having stop signs in all directions.
Stay with cbs5az.com and CBS 5 News meteorologists for the latest in weather conditions.
Copyright 2014 CBS 5 (KPHO Broadcasting Corporation). All rights reserved.