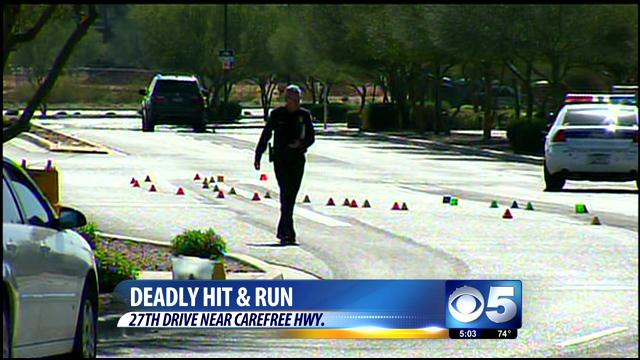 27th Drive just south of the Carefree Highway. (Source: CBS 5 News)
PHOENIX (CBS5) -
Phoenix police said they have detained an "investigative lead" after a man walking on a dirt path alongside a local road was struck and killed.
Investigators also said they located a vehicle involved in Friday night's accident that happened along 27th Drive just south of the Carefree Highway.
Police said the driver just kept going after possibly losing control.
Phoenix police Sgt. Trent Crump said speed may have been a factor.
"The vehicle left the roadway, went up into the landscape area on the side of the roadway," Crump said. "The pedestrian was struck with great force."
A passerby discovered the body Saturday morning.
The victim's identity has not yet been released.
No other details were provided.
Copyright 2014 CBS 5 (KPHO Broadcasting Corporation). All rights reserved.