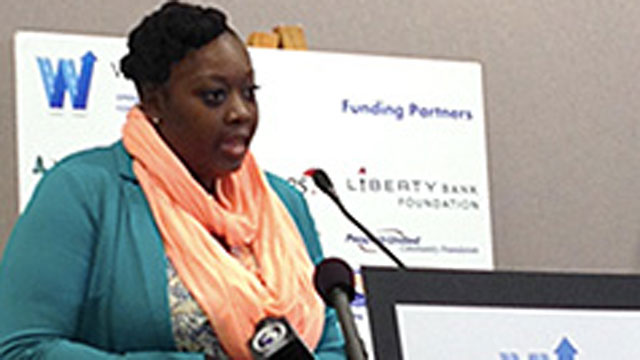 Shayna Scott talks about how the Work Path Fund helped her. (Photo Courtesy: Workforce Alliance)
HARTFORD, CT (WFSB) -
State officials raised awareness Friday about a program to help parents with kids get through difficult times and stay employed.
The Work Path Fund is a public and private nonprofit group that gives out one-time grants of between $250 and $1,000 to people in need.
So far the fund has more than $100,000 available to help.

The grants go directly to help pay for job-related costs including uniforms and childcare - something Shayna Scott found out firsthand.

"The program helped me get back on my feet, get my car, got me to the interview, helped me with my uniforms afterwards," Scott said. "It's amazing and to this day, I can't believe I'm a registered nurse and I finally got here. But it wasn't easy."
To learn more about the Work Path Fund and how you can apply for assistance, click here.
Copyright 2014 WFSB (Meredith Corporation). All rights reserved.