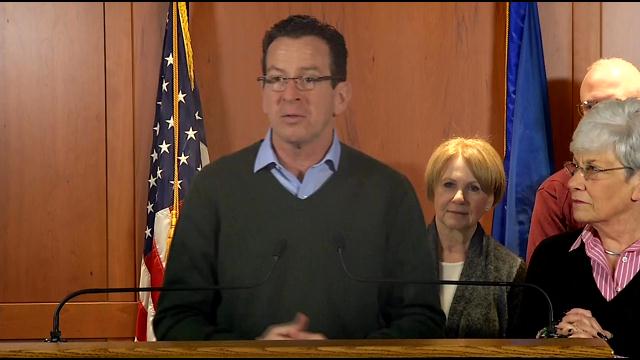 HARTFORD, CT (WFSB/AP) -
Connecticut Gov. Dannel P. Malloy Wednesday ordered non-essential, first and second-shift state employees to stay home and urged tandem truck drivers to stay off state highways as Winter Storm Derby buried the region in snow and sleet.
Slippery conditions caused a number of crashes and spinouts on the state's highways. State police said they responded to hundreds of calls for help.
"If one person spins out then it stops others too," said Robert Gasparri of D&R Snow Plowing. "If everybody just slows down, there would be less accidents."
Malloy called on all double or tandem tractor-trailers to stay off the highways. He said similar bans were put in place in New York and New Jersey.
Sleet and snow fell in a short period of time Wednesday morning, making it hard for plow drivers to keep up.
Drivers in Waterbury said the commute was messy. Many told Eyewitness News that the conditions caused them to slide.
The Department of Transportation said its goal is to keep the highways open. They said banning the tandem tractor-trailers was just one way to reduce crashes.

Copyright 2014 WFSB (Meredith Corporation). The Associated Press contributed to this report. All rights reserved.