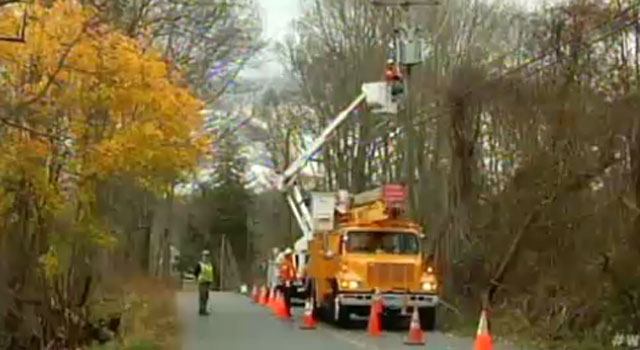 BERLIN, CT (WFSB) -
As crews from Connecticut Light & Power prepare for Winter Storm Easton, they are reminding customers to be ready for the wicked weather.
Crews have been positioned around the state in preparation for the storm.
"The forecast calls for heavy, wet snow in some areas which could pose a threat to trees and electrical equipment, possibly causing power outages," CL&P officials said in a statement on Wednesday.
To report an outage, call 800-286-2000. To see the outages throughout Connecticut, click here.

People should stay about 10 feet away from any downed power lines, CL&P officials said.
All Connecticut residents should have a storm kit in case they lose power. Here are the items that should be in the kit.
Flashlights with spare batteries
A battery-operated radio or TV
First-aid kit and medications
Canned, freeze-dried or dehydrated foods
A manual can opener
Bottled water
Baby or pet supplies (if needed)
Important phone numbers
For tips and updates from CL&P, follow them on Twitter.

Copyright 2014 WFSB (Meredith Corporation). All rights reserved.