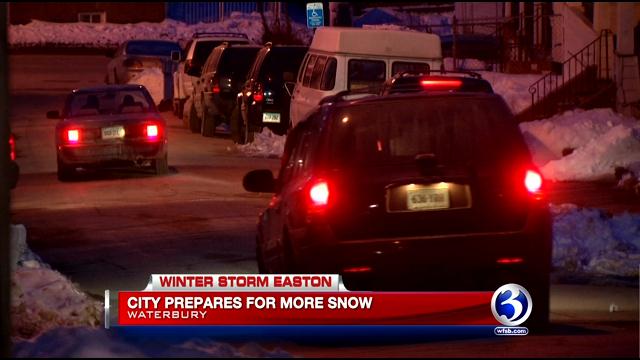 WATERBURY, CT (WFSB) -
Moving money around to clear the roads of snow was no easy task in Waterbury.
Mayor Neil O'Leary said Wednesday night that the city was prepared to plow Winter Storm Easton's snow, despite the city's tough hills and valleys.
However, O'Leary said these storms have been costly.
"We budget every year about $1.1 million for snow removal, and then we have some contingency fund especially because of last winter," he explained.
Last year, the city had to bring in heavy equipment to get rid of the massive mounds of snow dropped by Blizzard Charlotte. This year, the mayor said he's hoping he can get by without that extra expense.
"I just signed a $250 money transfer from our contingency fund into our snow budget," O'Leary said.
Residents said the windy roads and steep hills make the city tough to clear when it comes to snow.
"I have a four-wheel drive, but I recommend anyone who doesn't have one stay in doors," one resident said.
O'Leary said a parking ban went into effect at midnight Thursday morning.
Copyright 2014 WFSB (Meredith Corporation). All rights reserved.