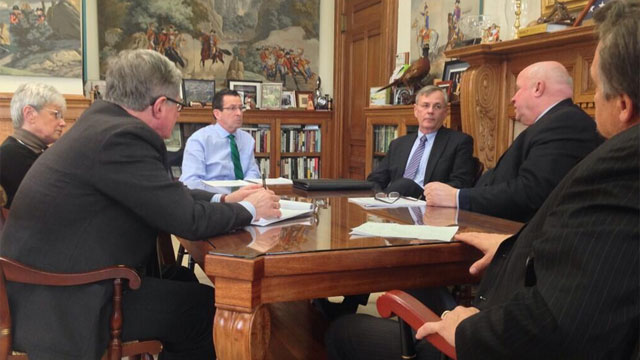 Gov. Dannel Malloy meets with the new president of Metro-North Railroad. (Photo Courtesy: Andrew Doba's Twitter page)
HARTFORD, CT (AP) -
Gov. Dannel Malloy met privately with the new president of Metro-North Railroad on late Monday afternoon.
The Democrat, who's been critical of the commuter railroad in recent months, has said he was looking forward to working with Joseph Giulietti, a former executive director of the South Florida Regional Transportation Authority.
Malloy sat down with Giulietti on Monday afternoon and was expected to talk to the media after the meeting.

Giulietti is replacing Howard Permut, who served as the head of Metro-North Railroad since 2008.
In December, following a derailment in the Bronx that killed four passengers, Malloy called on the railroad to provide an action plan addressing safety issues on the system.
The governor also expressed concern following an earlier derailment in Bridgeport last May, as well as a power outage that disrupted service along the New Haven Line.
Copyright 2014 The Associated Press. All rights reserved. This material may not be published, broadcast, rewritten or redistributed.