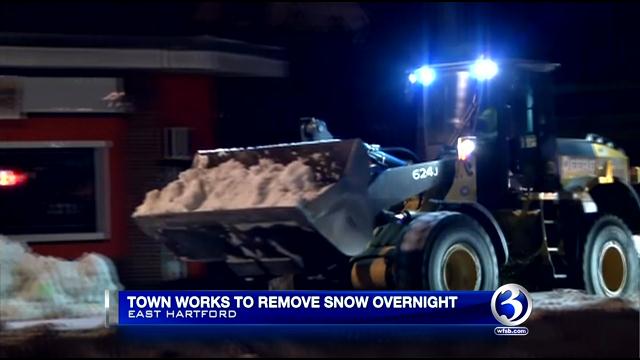 EAST HARTFORD, CT (WFSB) -
A massive cleanup operation was in effect in East Hartford Monday.
Crews filled dump trucks with the snow left behind over the past two weeks from winter storms Derby and Easton.
"We have loaders, bobcats and a large snow-thrower down the road," said Paul Forrest, East Hartford's highway services manager.
Public works officials said they've been working around the clock to clear the roads before the work week began, specifically on East Main Street.
Once that task is complete, they said they'll work on preparing for whatever storm may come next.

"Then at 8 in the morning, we're going to go pick up some salt from the state," Forrest said.
Officials said they already picked up 200 tons of salt the other day and planned on getting another 200 tons Monday.
Copyright 2014 WFSB (Meredith Corporation). All rights reserved.