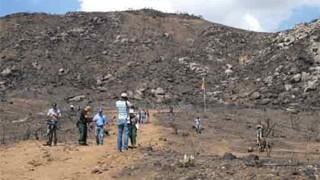 PHOENIX (AP) -
The Arizona House of Representatives has passed a bill setting aside $500,000 to create a memorial site honoring the 19 Granite Mountain Hotshots who died in the Yarnell Hill Fire last year.
House Bill 2624 passed Wednesday on a 56-2 vote and now goes to the Senate.
It was amended Monday to give the firefighters' survivors the chance to buy the site themselves. Rep. Karen Fann of Prescott says the widows approached her about the proposal.
The bill creates a committee to oversee the memorial and administer the fund and any donations for the purchase. The committee would include relatives of the firefighters, state representatives and state parks board officials.
All but one of the 20 Hotshots on the Prescott-based crew perished in the fire on June 30.
Copyright 2014 Associated Press. All rights reserved.