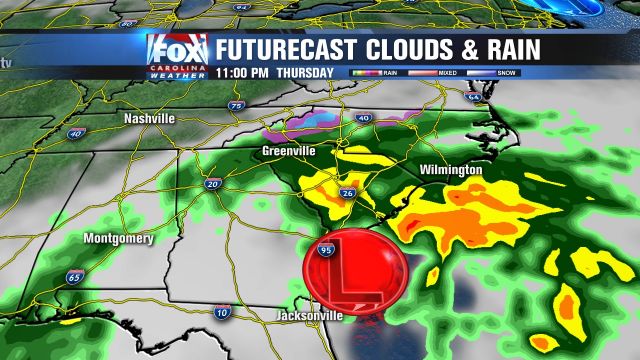 A low pressure is gathering strength near the Louisiana coast now, and will head toward the panhandle of Florida and east coast Thursday and Friday. As the low moves to our south then pushes north along the Carolina coast, we'll notice rain moving in from south to north through Thursday. By Thursday night, rain will become heavier in the Upstate, and turn to a wintry mix for parts of the mountains.
A set-up like this will often be a big snow-maker for the Upstate and northeast GA, but in this case the cold air won't be thick enough. We have SOME shallow cold air, which could help bring a wintry mix for late Thursday night.

As of now, surface temps in the Upstate looks to stay just above freezing as the rain falls, but we could briefly see readings down to 31-32 for northern and eastern sections of the Upstate. This would not mean snow, but would possibly mean some brief freezing rain. It shouldn't last long enough to cause any major issue (from 4-7am potentially), and most of the Upstate will see all cold rain. The mountains could see some light ice accumulations, along with some snow near the TN border in the northern mountains.
Rain will continue through Friday morning, then slowly push northeast through the afternoon. Once this mess gets out of here, a beautiful weekend awaits with highs in the low 70s for the Upstate and 60s in the mountains!