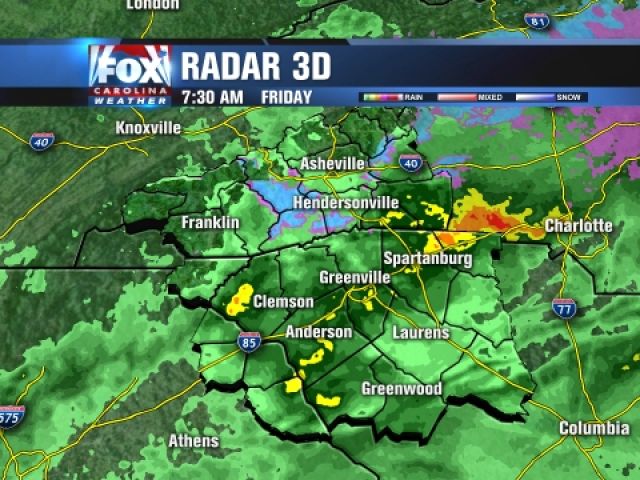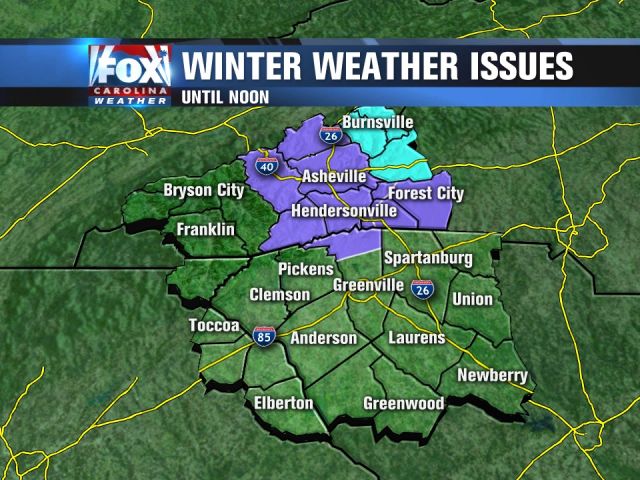 GREENVILLE, SC (FOX Carolina) -
Low pressure just off the coast of the Carolinas has us on the back end of this system and it continues to bring moderate to heavy rain in the Upstate as well as a wintry mix for parts of Western North Carolina.
We do have a winter storm warning in effect until 12pm this afternoon for Yancey, Mitchell and Mcdowell Counties. For Madison, Haywood, Transylvania, Henderson, Buncombe, Polk, Rutherford and parts of northern Greenville County we have a winter weather advisory in place until noon today.
Western North Carolina will start to see the wintry mix transition into rain as temperatures warm throughout the morning. There have been a few schools delays and closing for parts of the mountains as a result which can be seen here: School Closings/Delays
We can still see a good amount of moisture push through the area for the remainder of the morning but will slowly begin to clear as the low pressure system tracks off to the north and east this afternoon.
The sun can make a brief appearance before setting overnight and lows drop into the 30s. Saturday brings a burst of spring with warmer temperatures and sunny skies.
Saturday night into Sunday we "Spring Forward" as Daylight saving begins.