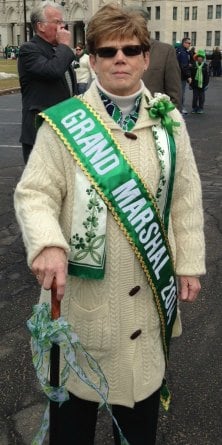 Grand Marshal Beverly Concannon.
HARTFORD, CT (WFSB) -
Everyone is Irish on St. Patrick's Day.
Thousands of parade goers turned out for the 43rd annual St. Patrick's Day Parade in the Capital City.
Beginning at 11 a.m., the parade stepped off from the State Capital and wound its way though the city as the onlookers cheered.
Among the marchers, making its inaugural debut, will be a full delegation from the city of New Britain, which was lead by its official honoree - Officer Brett Morgan.
Morgan was seriously injured when the driver of a stolen car ran over him in January.
Whether it's recognizing his recover or just out enjoying the sights and sounds, it's that celebration and a feeling of community coming together which makes this event a must every year.
"Just bringing my family together, having a good time and seeing everybody happy," Morgan said.