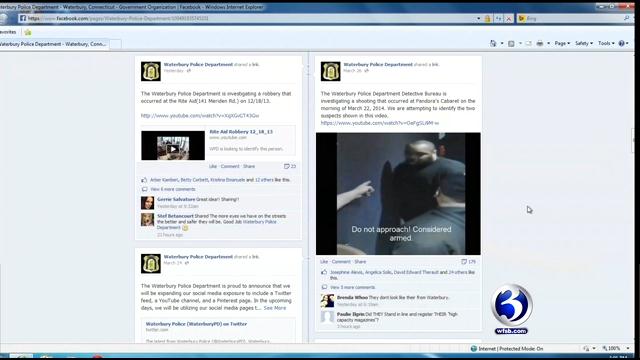 WATERBURY, CT (WFSB) -
Police in Waterbury are now using Facebook; not for talking to friends or catching up on the latest trends, but to help solve crimes.

"We've received emails and tips since this has been out," Detective Peter Morgan told Eyewitness News. "That helped us identify at least one of the individuals."

Detective Morgan is working leads on Facebook. The department started using its 'Like' page to post evidence to generate leads.

This is surveillance video of two suspects in a shooting at Pandora's Cabaret earlier this month, it got more than 20,000 hits.

"People can get on and say, 'Yeah that's my cousin, my friend, my sister's boyfriend,'" Morgan said Friday.

Investigators are also posting surveillance evidence from older cases that have not turned into arrests yet.

"More people are receiving their news on the Internet with social media such as Facebook, so we felt we could reach a wider audience on Facebook, YouTube and Twitter," Deputy Chief Christopher Corbett said.

"Our reach here is limited where as the Internet can reach the entire state in seconds," Morgan added.

Copyright 2014 WFSB (Meredith Corporation). All rights reserved.