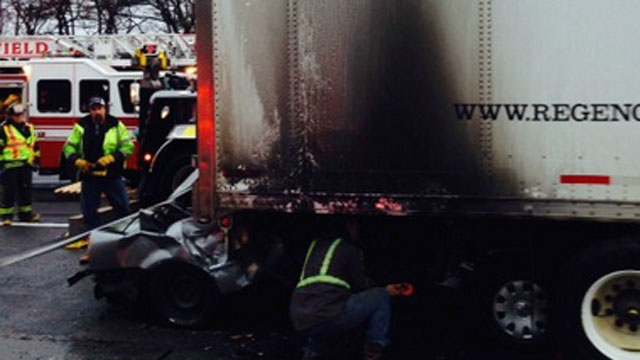 FAIRFIELD, CT (WFSB) -
One person has died after her vehicle slammed into the back of a tractor-trailer Interstate 95.
According to Fairfield firefighters, the crash was reported right before 6:30 a.m. this morning in the northbound lanes near exit 22.
Fire officials said Company 1 and Car 3 arrived on scene at approximately 6:34 a.m. and reported a very serious multi-vehicle accident. A car was under a tractor-trailer, the car was on fire and one occupant was entrapped in the vehicle.
Yvonne Sokol, 27, of Bridgeport was driving at a high rate of speed, swerving in and out of the left and center lane, according to state police.
Sokol veered right of the road and struck the tractor-trailer. She was pronounced dead at the scene by an AMR Paramedic.
The operator of the tractor-trailer, Brian Quinn, 50, of Dedham Ma., was not injured during the crash.
Firefighters put the fire out and quickly gained access to the car using hydraulic tools. The driver was determined to not have a pulse and ambulance officials took over. Firefighters continued to lift the trailer off of the car.
State police are still investigating the cause of the crash.
Copyright 2014 WFSB (Meredith Corporation). All rights reserved.