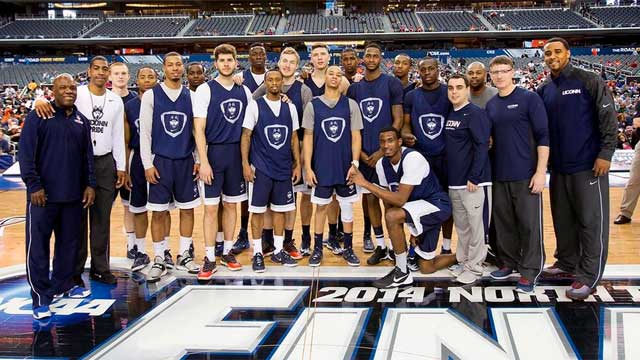 The UConn Men's Basketball Team posed for a photo on Friday after open practice at AT&T Stadium (Photo Courtesy: Stephen Slade)
UConn's players stuck around and are now reaping the benefits.
While several players left the program last season, Shabazz Napier, DeAndre Daniels, Ryan Boatright, Niels Giffey and Tyler Olander all decided to stick it out despite sanctions barring them from the NCAA tournament.
With those players leading the way, UConn is not only back in the NCAA, but playing in the Final Four for the third time in six seasons. It's the first Final Four appearance under Kevin Ollie, who took over last season for his mentor Jim Calhoun.
After scraping past Saint Joseph's in their tournament opener, the Huskies have put together an impressive string of victories to earn a spot in the national semifinals against Florida in North Texas Saturday night.
Copyright 2014 The Associated Press. All rights reserved. This material may not be published, broadcast, rewritten or redistributed.