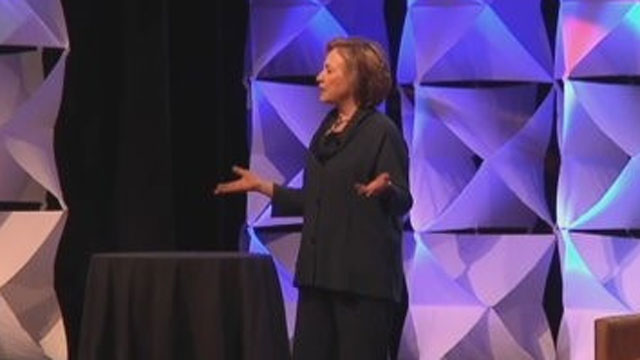 A woman is in custody Thursday night after throwing what she described as a shoe at Hillary Clinton.
The moment was caught on camera as the former Secretary of State spoke at the I-S-R-I Convention in Las Vegas. It's the world's largest recycling industry convention and trade-show. Mrs. Clinton was the keynote speaker at this year's event.
Clinton ducked but did not appear to be hit by the object and then joked about it.
Security ushered the woman out of the auditorium as she walked with her hands in the air.
Still no word on the identity of the woman or exactly what the object was. One eyewitness said she saw something orange thrown from the side aisle with papers that fluttered in the air.
Immediately after the incident, the convention's chairman apologized to Mrs. Clinton and called it a "crude interruption."