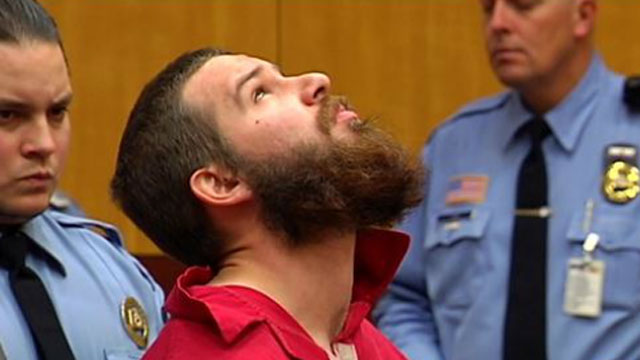 Robert Rankin titles his head back as he was arraigned after being charged in connection with fatally stabbing his mother. (File Photo)
WETHERSFIELD, CT (AP) -
A schizophrenic man who attempted suicide while jailed for his mother's slaying was not receiving constant supervision even though a judge ordered him placed on suicide watch.
Department of Correction spokesman Andrius Banevicius told The Associated Press that Robert Rankin "was not under a mental health status that would require constant observation" at the time of the Feb. 12 attempt.
Surveillance video from Garner Correctional Institution, reviewed by the AP, shows the 23-year-old walking alone up an open stairway, calmly climbing a railing and plunging head-first to the floor below.
No correctional staff members can be seen near Rankin at the time of the incident.
Rankin survived, but suffered some broken discs.
During Rankin's Dec. 27 arraignment, Judge David P. Gold ordered a suicide watch and mental-health evaluation.
Copyright 2014 The Associated Press. All rights reserved. This material may not be published, broadcast, rewritten or redistributed.