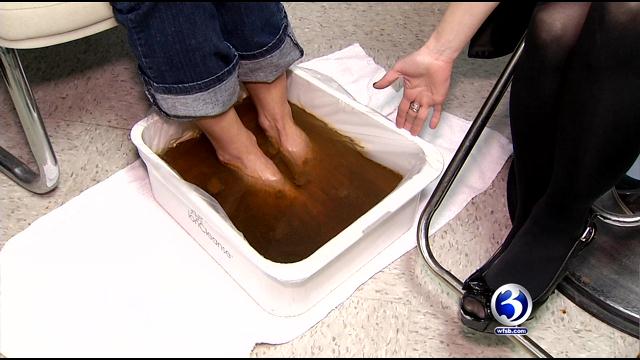 HARTFORD, CT (WFSB) -
There's been a lot of talk directed at the effects of cleanses and detoxes. But a salon in Southington came up with a way to detox your entire body by just focusing on your feet.
They call it an "ion cleansing bath" and Casey's Image Consultants have been using this practice for a few years now.
The Ion Cleanse was created by a Colorado doctor, Bob Moroney with his belief diseases are caused by toxins which enter your body.
Carrie Marquart, a health and wellness director at the YMCA in Meriden claims she was pretty healthy until she tried this new method. Here's how it works:
Your bare feet are put into a bath of warm water and salt. Then an electrode device called an "array" is placed in the water. The device works by magnetically drawing the toxins out of your body through the pores in your feet. You can see the toxins and pollutants leaving your body as the water color changes.
Carrie's water started out clear and within 30 minutes it turned orange. Each color indicates a different area of the body as seen on a color chart. Orange meant possible liver problems, joint problems and more.
Each session with the "Ion Cleansing Bath" costs $45 and the older you are the more toxins you may need released. After an initial series of sessions, you will only need this cleanse once a year.
Copyright 2014 WFSB (Meredith Corporation). All rights reserved.