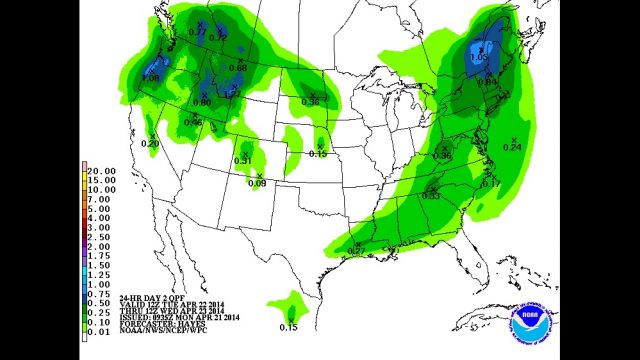 Image courtesy NOAA NWS
Rain...not today, but it's on it's way. At least to start the work week we've been given sunny skies and temperatures in the low to mid-70s, along with a light breeze. But, just off to our west, a cold front is approaching and will bring cloudy skies and wet weather for us on Tuesday. It's not going to be a total soaker of a system, forecast to bring around 1/4-1/2" of rain across our region.

Timing: the morning commute should stay mostly dry with just an isolated Upstate shower north of the I-85 line. More consistent rain and a few thunderstorms push in around lunchtime and stick around through the evening. Western NC will see showers throughout the morning commute and continuing on & off all day, with a few rumbles of thunder as well, finally beginning to clear around the dinner hour.

Severe weather is not expected at this time, however there could be pockets of heavy rain and frequent lightning within a thunderstorm. Once the cold front passes Tuesday evening, skies will clear and the wind will pick up, gusting up to 20mph.
Wednesday and Thursday remain sunny with highs in the upper 60s and 70s, with another chance for wet weather pushing in to end the work week.