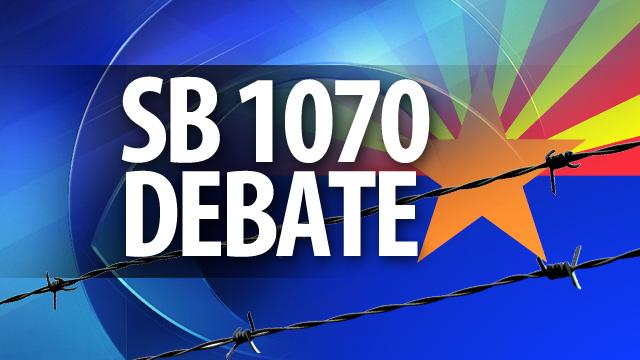 © CBS 5 News
PHOENIX (CBS5) -
On Wednesday, it will be four years since Gov. Jan Brewer signed one of the most controversial immigration laws in the country.
The signature put Arizona and Brewer in the national spotlight. It also caused mass protests at the State Capitol.
Since then, one by one, courts have stripped provisions from the law and on Monday a judge ruled police can't go after people who harbor suspected illegal immigrations.
Here's the timeline of events.
April 23, 2010. SB 1070 was signed into law. The law's most controversial provision authorizes law enforcement to question the immigration status of anyone stopped if an officer has a "reasonable suspicion" that an individual is an undocumented immigrant.
July 6, 2010. With several other lawsuits already filed against the state by civil rights organizations and police officers, the U.S. Department of Justice filed a lawsuit against Arizona, challenging the constitutionality of SB 1070 on the grounds that the law interferes with the federal government's authority to set and enforce immigration policy.
July 15, 2010. U.S. District Judge Susan Bolton heard arguments on a request for preliminary injunction filed by the earlier lawsuits and on Arizona's request to dismiss those lawsuits.
July 28, 2010. U.S. District Court Judge Susan Bolton issued a temporary injunction that prevented several provisions of SB 1070 from being implemented. The sections that were barred from taking effect (pending appeal) were: Section 2B, requiring law enforcement officers to determine immigration status during any lawful stop; Section 3, creating state crimes and penalties for failure to carry federally-issued alien registration documents; Section 5 making it unlawful for an unauthorized alien to knowingly apply for or perform work in Arizona; and Section 6, permitting an officer to make a warrantless arrest if the officer has probable cause to believe the person has committed any public offense that makes the person removable from the United States.
July 29, 2010. The day the law was scheduled to go into effect. It was 90 days after the end of regular legislative session.
August 26, 2010. Gov. Brewer filed an appeal.
November 1, 2010. Arguments were heard on the appeal in the Ninth Circuit Court of Appeals.
April 11, 2011. The court upheld the injunction.
May 26, 2011. The Supreme Court upheld Arizona's 2007 law that required the use of E-Verify by Arizona employers, punishable by suspension or revocation of the employer's business license. The Immigration Reform and Control Act of 1986 (IRCA) preempts any state or local law from imposing civil or criminal sanctions (other than through licensing and similar laws) upon those who employ, or recruit or refer for a fee for employment, unauthorized aliens.
April 21, 2014. The U.S. Supreme Court refused to hear an appeal of a blocked provision of Arizona's 2010 immigration enforcement law, dealing another blow to Gov. Jan Brewer in her effort to defend the law. [Related: Court rejects Arizona's appeal in immigration case]
The National Conference of State Legislatures contributed to this report.
Copyright 2014 CBS 5 (KPHO Broadcasting Corporation). All rights reserved.