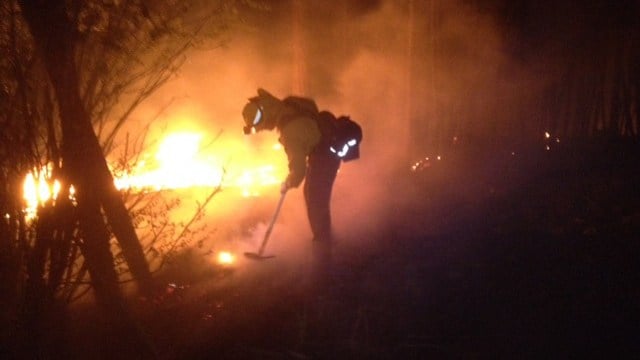 Flagstaff firefighters said a brush fire near the Coconino County Fairgrounds on Monday night was most likely human caused. (Source: CBS 5 News)
FLAGSTAFF, AZ (CBS5) -
Flagstaff firefighters said a brush fire near the Coconino County Fairgrounds on Monday night was most likely human-caused.
The fire broke out about 10:30 p.m. just south of the fairgrounds, according to a news release from the Flagstaff Fire Department.
The fire burned about a quarter acre and a few large downed trees in the interior of the fire, according to the release.
Crews with three engines and a water tender fought the fire and prevented it from spreading to structures in the immediate area.
No injuries were reported, according to the release.
A fire department spokesman said the fire was believe to be caused by humans.
Dry and windy conditions were being forecast for northern Arizona, as well as the rest of the state, increasing the danger of wildfires. Campfires are prohibited in Coconino County, the spokesman said.
Copyright 2014 CBS 5 (KPHO Broadcasting Corporation). All rights reserved.