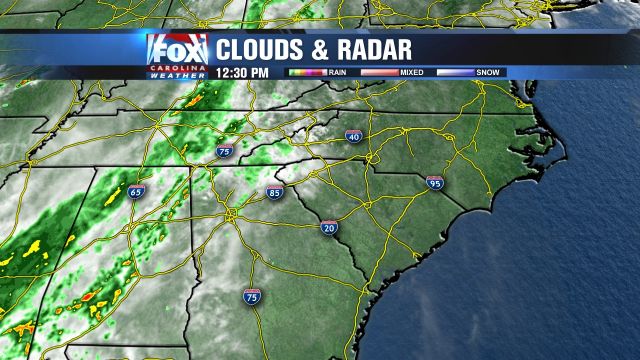 GREENVILLE, SC (FOX Carolina) -
T.G.I.F! Many may be excited for the end of the work week, but it may not be the weekend that some are happy about. After eight straight days of dry conditions, temperatures climbing to above normal and even tying a record high one of the days, we are about ready to see a few drops in northeast Georgia and the Carolinas.
The good news is that relief from overbearing pollen and wilting flowers looks to be on its way! This afternoon we are already beginning to see light showers creep into western North Carolina and will be holding on to rain chances across the mountains into the overnight hours as well. Northeast Georgia and the Upstate will see a slightly lesser chance of rain this evening but eventually see those chances bump up for Saturday. Expect temperatures to remain relatively mild, only dropping down into the mid-60s and mid-50s.
Saturday is looking to provide us with the best opportunity for rain as well as a slight chance of an isolated thunderstorm. The best chance of rain & thunderstorms will come in the afternoon during peak heating hours. If cloud cover remains thick enough, we may be able to buffer heating enough to limit any thunderstorm development. Though much cooler, temperatures will still be above normal for this time of year, peaking in the lower 80s for the Upstate and mid-70s in the mountains.
Mother's Day will see a decrease in rain chances as well as cloud cover and an increase in temperatures. We still may see a scattered shower or two so it would be a good idea to keep an umbrella handy during any Mother's Day activities. Highs will climb into the 80s once again across the entire region.
Slight rain chances will linger around for the beginning of the work week, then pick up once again as we expect a cold front to arrive Wednesday, knocking temperatures out of the 80s and back closer to normal.