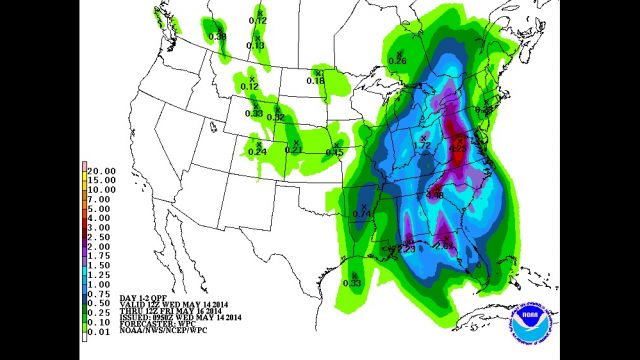 After a week of dry weather, we're on the verge of seeing a soaker of a system approach the southeast. Today should bring partly cloudy skies with highs reaching the 80s area-wide. A few pop-up storms are possible in the afternoon, though most towns should remain dry. Widespread showers should arrive late tonight, with heavier rain pushing in early Thursday morning and lasting throughout the day. Our western region (Oconee, Pickens, NE Georgia, etc.) will see the rain earliest, but if you're in Cherokee, Union, or other areas east of Greenville, the rain is expected to begin for you closer to the AM rush hour. With the clouds, wet weather and passing cold front, highs remain cooler in the 60s and 70s.
1-3" of rain is expected to fall across our area by Thursday evening, with the highest totals west of Greenville and in the mountains. There is a Flash Flood Watch in effect for all of Western NC starting at midnight tonight through 6am Friday. Though the Upstate is not currently under a watch, isolated thunderstorms could produce pockets of very heavy rain locally as well, so stay aware of low-lying areas as well as streams and creeks that tend to overflow their banks.
Late Thursday night, skies should begin to clear again and temperatures will be much cooler than what we've been seeing for the next few days. Sunshine returns Friday with just a few clouds over the weekend, and highs remain in the mid-70s Upstate, and around 70 in the mountains.