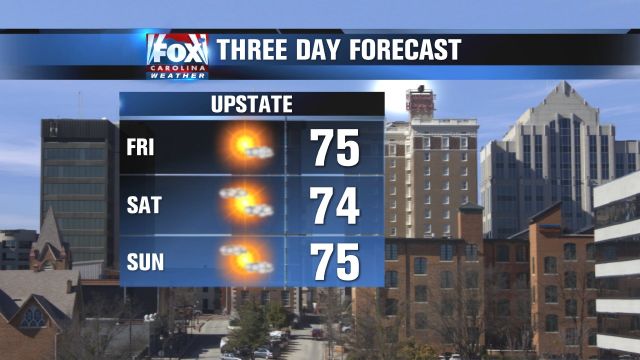 GREENVILLE, SC (FOX Carolina) -
Last night saw periods of strong storms and violent downpours that sparked a few severe thunderstorm warnings for parts of the upstate. Rain slowly trickled off during the morning hours and has since stopped in many locations.
However, we are not quite out of the woods yet. Though the worst has seemed to pass, we are still holding on to the chance of scattered showers into the afternoon and evening with moisture still in place. As the cold front tracks across the Carolinas we may see an additional rain shower or two pop up with the slight potential of a thunderstorm as well.
Later this evening though, we may be graced with a bit of sunshine before all is said and done. Overnight lows will drop into the lower 50s and mid-40s under clearing skies. This will set us up for a sunny but breezy Friday with highs a bit below normal, only topping out in the mid-70s and mid-60s.
Saturday and Sunday will see partly cloudy skies with cool, yet comfortable, temperatures to enjoy the BMW Charity Pro-Am or the Greek Festival downtown. Pleasant conditions will likely continue into the following work week with temperatures slowly climbing back into the 80s.