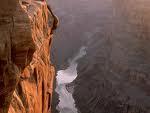 FREDONIA, AZ (AP) -
A Kaibab National Forest trail near the north rim of the Grand Canyon is getting longer.
Forest officials say work is underway on an eight-mile extension for the 18-mile Rainbow Rim trail, a route that provides access to five scenic vistas for mountain bike riders, hikers and horseback riders.
The extension will take the trail eastward from the current end point at Timp point with both new construction and road-to-trail conversion.
Members of several bike groups and other volunteers worked on the new trail over the Memorial Day weekend, and the North Kaibab Ranger District trail crew will continue to work on the trail throughout the summer.
The Rainbow Rim trail was constructed in the 1980s.
Copyright 2014 Associated Press. All rights reserved.