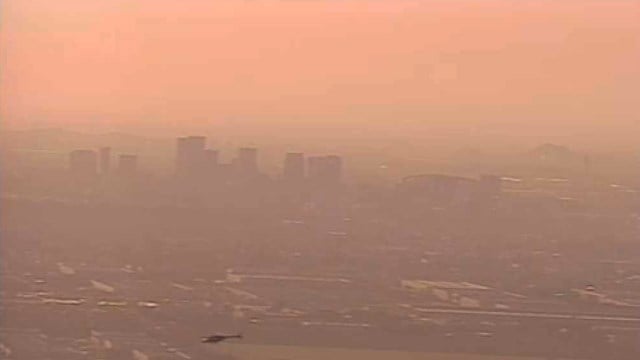 PHOENIX (CBS5) -
The Arizona Department of Environmental Quality has issued its first ozone high-pollution advisory of the year for the Phoenix metropolitan area for the rest of Friday.
An ozone health watch had already been issued for Friday, but the health warning was upgraded because six Valley monitors exceeded the ozone health standard on Thursday, the ADEQ said.
Yuma also had its highest ozone concentrations on Thursday in 10 years and those conditions are currently moving east into the Valley, ADEQ said. Ozone concentrations are expected to be much less on Saturday.
ADEQ recommended that children and adults with respiratory problems avoid outdoor activities the remainder of Friday and also suggests that the general public limit outdoor activity.
The Maricopa County Air Quality Department will enforce its mandatory "No Burn Day" restriction Friday. The restriction includes individuals and businesses that have burn permits for open burning.
Valley Metro asked that employers activate their HPA Plan. Residents and employers are asked to use these tips to help make the air healthier to breathe:
Drive as little as possible: car pool, use public transit or telecommute. For information on transportation alternatives, visit Valley Metro: www.valleymetro.org
Avoid using leaf blowers.
Do not light an open, outdoor fire.
Use low-VOC (Volatile Organic Compounds) or water-based paints, stains, finishes and paint strippers.
Delay big painting projects until high-pollution advisories or health watches have passed.
Make sure containers of household cleaners, garage and yard chemicals and other solvents are sealed properly to prevent vapors from evaporating into the air.
To learn more about the air you're breathing, visit: http://cleanairmakemore.com/
Copyright 2014 CBS 5 (KPHO Broadcasting Corporation). All rights reserved.