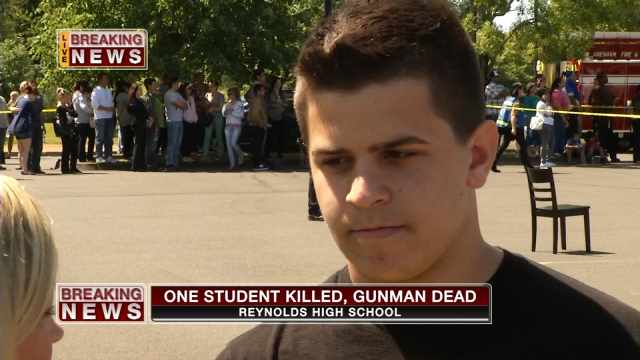 TROUTDALE, OR (KPTV) -
Reynolds High School students said their first thought was firecrackers when they heard a gunshot at their school Tuesday morning.
One student, who FOX 12 is only identifying as Brandon, was in the main gym of Reynolds when several other students heard the gunshot.
"We thought it was firecrackers or something in the bathroom because that's where we heard it," he said. "But then we heard it again. So we ran to this hallway between the weight room and the main gym and we barricaded the door."
About 30 minutes later, the student said, police arrived and told the students to emerge from the barricaded room with their hands up.
"We were escorted off the street and dropped our bags off," he said.
Police then interviewed the students and, during a search, a gun was discovered on another student, Brandon told FOX 12. That gun was seized and the student was detained. There did not appear to be any connection to that student and the shooting that took place earlier that morning.

Copyright 2014 KPTV-KPDX Broadcasting Corporation. All rights reserved.