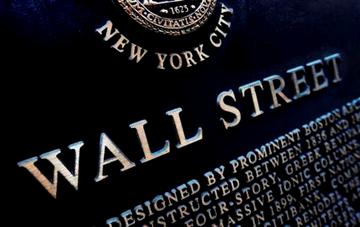 (AP Photo/Mark Lennihan, File). FILE - This Jan. 4, 2010 file photo shows an historic marker on Wall Street in New York.
NEW YORK (AP) - U.S. stocks are moving mostly lower in midday trading as investors assess corporate earnings.
The Dow Jones industrial average fell 28 points, or 0.2 percent, to 16,886 as of midday Eastern time Friday.
The Standard & Poor's 500 index lost two points, or 0.1 percent, to 1,962. The Nasdaq composite rose four points, or 0.1 percent, to 4,400.
Fastenal, which makes industrial fasteners, fell 5 percent after reporting revenue that fell short of analysts' estimates.
The S&P 500 index is poised for its biggest weekly loss since April after closing out the previous week at a record high. It's down 1.2 percent so far this week.
Bond prices rose. The yield on the 10-year Treasury note fell to 2.51 percent.
Copyright 2014 The Associated Press. All rights reserved. This material may not be published, broadcast, rewritten or redistributed.