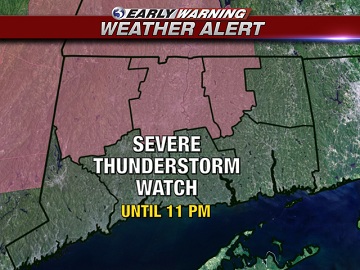 LITCHFIELD, CT (WFSB) -
Severe thunderstorms came through parts of the state on Sunday evening.

A severe thunderstorm watch is posted until 11 p.m. for the northwestern third of Connecticut.

Strong and sometimes damaging thunderstorms were slowly moving through the northwestern half of Litchfield County during the evening hours.
The storms are expected to weaken throughout the evening.
These storms will weaken but not before they present further potential for damaging wind of 60 mph in narrow corridors and torrential rain.
According to Connecticut Light and Power, there are scattered outages throughout the state. There are 34 customers without power in Hartford, 20 people without power in Bloomfield and 12 in West Hartford.
The best opportunity for heavy showers and thunderstorms could be Monday and Tuesday.

There was a flood advisory in effect for Hartford, Litchfield and Tolland counties.
For the full technical discussion, click here.

Copyright 2014 WFSB (Meredith Corporation). All rights reserved.