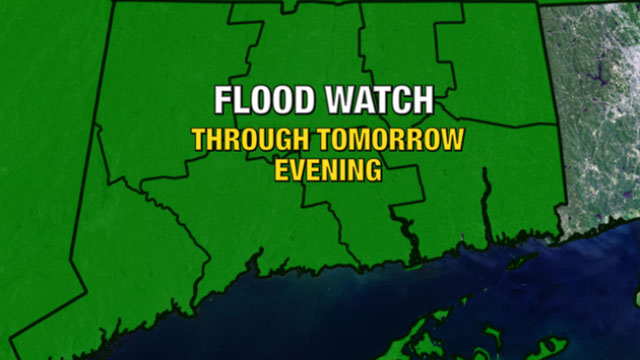 HARTFORD, CT (WFSB) -
Good Monday morning all!
****A FLASH FLOOD WATCH is in effect for the entire state. It starts this afternoon and continues through tomorrow evening****
Today and tomorrow offer the best opportunity for heavy showers and thunderstorms. The "much talked about" polar vortex will be diving into the Great Lakes, giving that region temperatures that are 20° below normal. At the same time, the heat and humidity will still be over New England and, in the middle, a cold front will sit. We will be positioned close enough to that front that showers and thunderstorms will form in our area. Today and tomorrow, as highs reach into the middle and upper 80s with the 70-degree dew points sticking around, thunderstorms may not only be numerous, some may be strong -- if not severe. The biggest concern would be damaging wind from the strongest cells, in addition to flash flooding. Some models suggest an average of 2"-3" of rain may fall in parts of the state (a few say western Connecticut will get the highest of these rain totals) with even higher totals in narrow, localized corridors.
Although the models do not agree on how Wednesday will shape up, we have chosen to take the less sunny route and say that the front will linger. Although cooler air will infiltrate, holding highs in the 70s Wednesday, clouds will likely linger, as will rain showers and thunderstorms.
The weather will turn nice Thursday and stay nice Friday. Highs in the 80s with sunshine, dry air and comfortable breezes will be courtesy of a high pressure system that will slowly float by. A cool front may bring showers next Saturday. Note that the "polar vortex" will not have the same cooling impact here as it will in the Great Lakes, as it will moderate a great deal before arriving in a much milder way Thursday.
Have a great week!
Meteorologist Mike Cameron with Scot Haney
"Copyright 2014 WFSB (Meredith Corporation). All rights reserved."