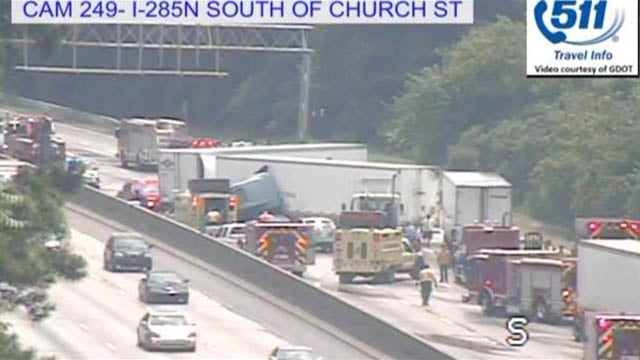 ATLANTA (CBS46) -
A major accident shut down part of I-285 in Atlanta Monday afternoon.
The lanes were shut down on the southbound side of I-285 due to an accident between two tractor trailers and 16 other vehicles.

It happened in DeKalb County near the Memorial drive exit just before 2 p.m.
DeKalb County police say it all started with one accident because of the heavy rain. This led to several chain reaction crashes.
There were no serious injuries, but nine people were taken to area hospitals for minor injuries including pains and cuts.
Crews had hoped to have one or two lanes back open by 2:30 p.m.. However, the lanes were closed longer due to equipment that had to be brought in to clear the scene.

You can find the latest traffic information on our traffic page.

Copyright 2014 WGCL-TV (Meredith Corporation). All rights reserved.