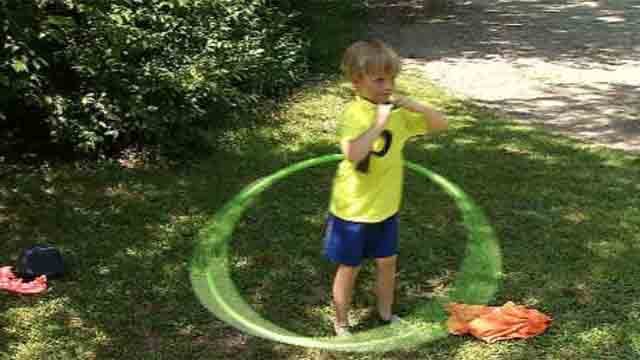 HARTFORD, CT (WFSB) -
A local 5-year-old boy has taken hula-hooping to a brand new level, and he's been doing this since he was just 3.
Earlier this summer Eyewitness News launched a brand new series called It's Going Viral, where Scot Haney checks out all of the videos that are sent into the newsroom and picks some to showcase.
When Clark Smithwick, 5, took center stage at his elementary school talent show, the crowd was definitely impressed with what he could do with a hula hoop.
Smithwick took his hula-hooping talent to the next level by performing to the song Happy by Pharrell Williams.
During his routine, Smithwick takes off five different T-shirts, each with a different letter on them, spelling the word "Happy!"
"I just like move around my hips," Smithwick said when Haney asked him how he knows how to hula-hoop.
Smithwick added that he started hula-hooping at the age of 3 years old and his mom actually made the hula hoops out of plumbing supplies.
If you have a great video that is clever or funny and you'd like to share it with Eyewitness News, please email it to SHaney@WFSB.com.
Copyright 2014 WFSB (Meredith Corporation). All rights reserved.