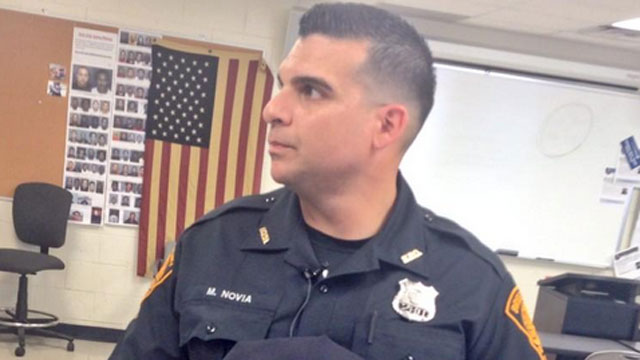 Officer Michael Novia recognized at roll call today after saving an unresponsive child's life this week. (WFSB Photo)
BRIDGEPORT, CT (WFSB) -
A Bridgeport police officer is being credited with helping save a child's life on Tuesday.
A press release said Officer Michael Novia was on patrol in the area of Park Avenue when a woman flagged him down to say her child was not breathing.
The child was found unresponsive in the back seat of a vehicle, and called St. Vincent's Medical Center to alert them about an incoming patient.
He then escorted the family to the hospital.
Hospital medical staff said that the 18-month-old child probably would not have survived if Novia had waited for an ambulance at the scene.
The child was transferred to Yale-New Haven Hospital where he is reported as being in good condition.
"Officer Novia will say he was just doing his job," said Lt. Ronald Mercado, in a press release. "I see it as much more than that. He saved a child's life through his quick actions. This is the type of person I am honored to work with and the type of officer that Bridgeport should be proud to call its own."
Copyright 2014 WFSB (Meredith Corporation). All rights reserved.