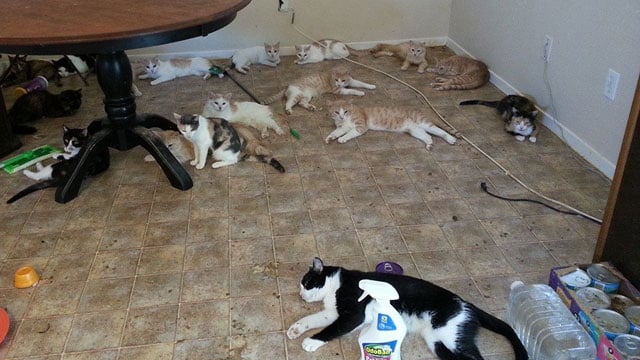 As many as 112 cats were removed from a home near Gowan Road and Revere Street on July 24, 2014. (Source: NV Voters for Animals)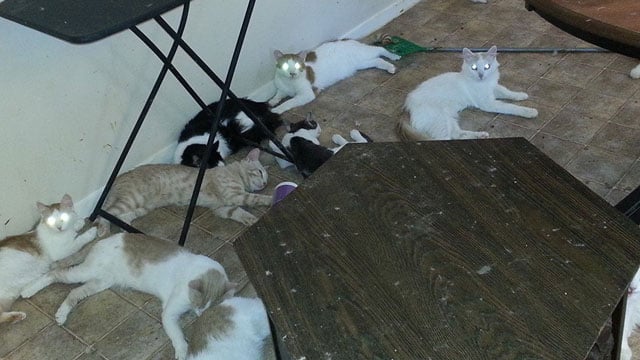 The cats were taken from the home after a call over public safety with North Las Vegas building inspectors. (Source: NV Voters for Animals)
NORTH LAS VEGAS, NV (FOX5) -
As many as 112 cats were taken from a North Las Vegas home on Thursday in a case of pet hoarding.
Officer Aaron Patty of North Las Vegas police confirmed the felines as well as one dog were removed from a home on Harp Way, near Gowan Road and Revere Street.
Patty said building inspectors were called to the home at about 11:30 a.m. Thursday due to concerns over public safety. Inside, inspectors found the home below livable standards with urine and feces throughout the residence.
A woman inside the home was taken to a local hospital as a precaution. Patty said she will not be able to return home after her admittance.
The pets were taken to Lied Animal Shelter to see whether they are in good health.
According to animal advocacy group Nevada Voters for Animals, at least two animal control officers with North Las Vegas were transported to a medical facility after removing the animals. It took officers at least six hours to complete the removal.
In a difference to NLV police, Nevada Voters for Animals counted about 120 cats that were removed.

Stay tuned to FOX5 for the latest on this developing story.
Copyright 2014 KVVU (KVVU Broadcasting Corporation). All rights reserved.