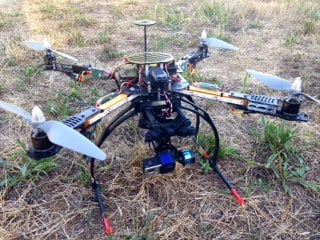 NEWBERG, OR (KPTV) -
It's been nearly a week since Jennifer Huston, 38, of Dundee vanished after running errands in Newberg Thursday evening, and ever since she disappeared, the search for her has been growing to include more people and more methods of searching - including a drone.
Shawn Barney has a piloting background and made his so-called "quad copter" himself. A GoPro camera is attached to the device, which sends back video to his iPad and can search areas traditional aircraft – or even people on foot – can't reach.
"We came into a situation [searching Bald Peak] where the road was very steep and unsafe to even get off a little bit," he said. "So this is a perfect example to launch this out of the back of my car, take two minutes and get a real quick look at what's down there in the ravine."
He also used the device to aid in an organized ground search Wednesday along Wilsonville Road. He said the nearly two dozen searchers did find car parts and broken mirrors, but nothing related to the search for Jennifer Huston or her car.
Like so many people over these heartbreaking six days, even though Barney never met Huston, this search has become personal.
"I'm a grandfather, husband and dad of four beautiful girls, and it just kills me – absolutely tears me up inside - to think that could be my wife or one of my daughters," he added.
RELATED:
Copyright 2014 KPTV-KPDX Broadcasting Corporation. All rights reserved.