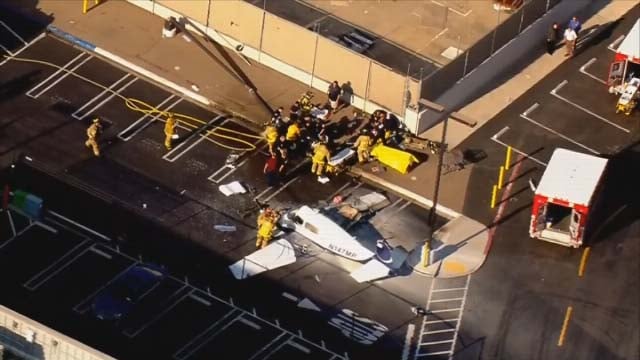 CBS photo
A passenger is dead and the pilot injured after their small plane clipped a store building and crashed into a shopping center parking lot in San Diego.
Officials said the 52-year-old pilot was trying to land her plane at an airport nearby when she lost control.
Witnesses dodged flames to rescue two women from the plane, however the 78-year-old passenger died.
"I stepped up on the wing and I was talking to her through the window when I said 'we have to get you off this plane it's on fire.' She said 'my leg is broken. It's broken really bad. I'm pinned in here.' And I said 'okay, okay, but we've got to get you out of here'," said witness Jeremy Dunkleberker, who shot some video on his phone.
Federal investigators said the plane bounced while trying to land, and the pilot was trying to circle back around when she made a desperate call to air traffic control.
The cause of the crash is under investigation.
The plane managed to land in an empty space, avoiding customers and cars.
© 2014 CBS Interactive Inc. All Rights Reserved.