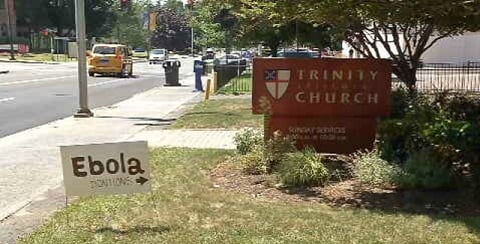 HARTFORD, CT (WFSB) -
As the Ebola virus outbreak continues to torment West Africa, there are local efforts underway in the state to help those impacted.
The Trinity Episcopal Church in Hartford is collecting cleaning supplies to be sent to West Africa, and a local man originally from Liberia is organizing it.
Joseph Morris Kalapele's family is living in the Ebola-stricken country, and while none of his family members have contracted the virus, he is taking action to move them away from the city of Monrovia.
"To have an epidemic of this such, you know, taking over the country, there's just a huge probability that someone you know will be affected," Kalapele said.
Now, he is collecting cleaning supplies to try and keep the virus from spreading further.
"What we want to do is provide cleaning supplies so that children that go to school, little kids that go to school, can have hand sanitizer," he said, adding that surgical gloves are a big item to collect.
The collection drive is expected to continue for one month. The Trinity Episcopal Church is located at 120 Sigourney St.
Copyright 2014 WFSB (Meredith Corporation). All rights reserved.