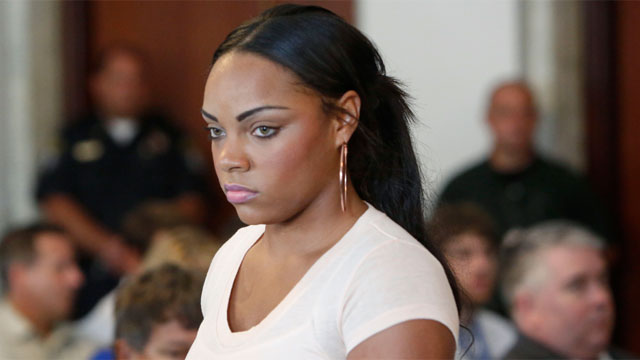 Shayanna Jenkins, fiancee of former New England Patriots NFL football tight end Aaron Hernandez, arrives at Attleboro District Courtroom, on July 24. (AP Photo/Bizuayehu Tesfaye)
BOSTON (AP) -
The fiancee of former New England Patriots player Aaron Hernandez is seeking to have perjury charges dismissed.
Shayanna Jenkins' lawyers filed a motion in county court in Fall River stating that prosecutors failed to provide sufficient evidence to a grand jury. The defense's legal memorandum supporting the arguments was filed under seal.
Jenkins had been expected in court last week, but that hearing was postponed until Aug. 22.
Prosecutors say Jenkins lied to a grand jury nearly 30 times, including saying she could not recall where she left a large box Hernandez allegedly told her to dispose of.
Hernandez has pleaded not guilty to three murder charges, including the killing of Odin Lloyd near the North Attleborough home Hernandez shared with Jenkins. Lloyd was dating Jenkins' sister.
Copyright 2014 The Associated Press. All rights reserved. This material may not be published, broadcast, rewritten or redistributed.