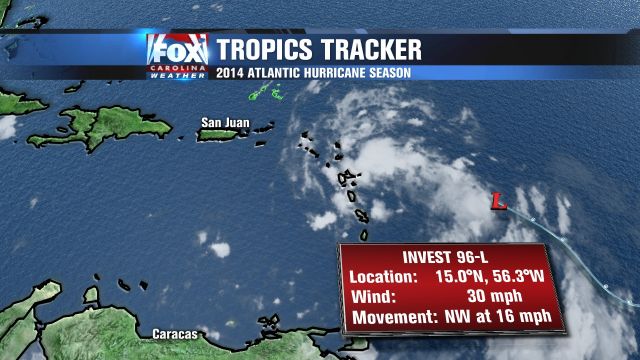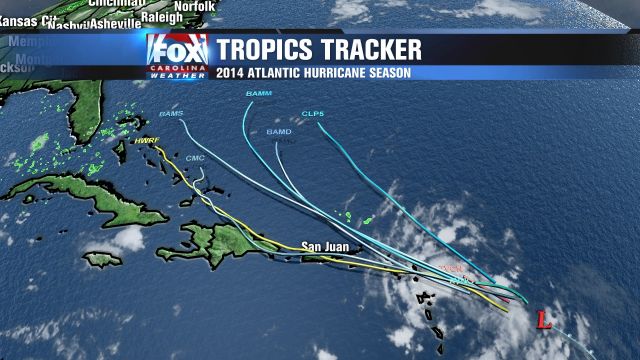 GREENVILLE, SC (FOX Carolina) -
We continue to watch an area of low pressure referred to as Invest 96-L making its way towards the Lesser Antilles. This disturbance has not yet developed into a tropical depression, however, we can see some organization in the days ahead.
Whether we see development or not, the Lesser Antilles, Puerto Rico and Virgin Islands will likely see heavy rain and gusty winds this weekend. Spaghetti models have this system taking a very similar track as Bertha during its early stages.
The different here is after passing the Virgin Islands, we can see Invest 96-L make a run towards the Florida coast and effect much of the state throughout the start of next week.
Winds are currently sustained at about 30 miles per hour as the area continues to move to the northwest at about 16 miles per hour. Formation chances within the next 48 hours are at about 50 percent with the chance of development in the next five days being at about 70 percent.
Vertical wind shear is relatively low over the area of low pressure and sea surface temperatures are at about 83 degrees Fahrenheit. These conditions are conducive for tropical development and can allow organization to take place in the near future. If conditions persist, we may see a tropical depression develop by this weekend.
There is a Hurricane Hunter aircraft scheduled to investigate the disturbance this afternoon, which will give us more information on this unorganized area of rain and thunderstorms. As more information arrives into the Fox Carolina Weather Center, we will be sure to keep you posted!