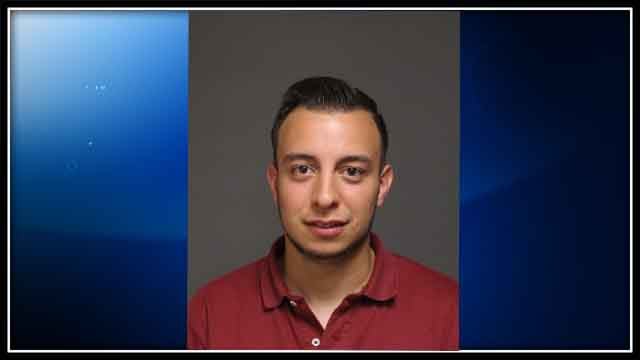 John Nuzzolo is accused of dragging a student down hallway (Fairfield police photo)
BRIDGEPORT, CT (WFSB) -
A teacher's aide in Fairfield who is accused of dragging a student down a hallway in May is scheduled to face a judge Monday.
John Nuzzolo, 24, of Oxford, is due in Bridgeport Superior Court at 10 a.m.
Nuzzolo allegedly dragged the 17-year-old student by her backpack down a hallway of LudLowe High School on May 29.
The incident was caught on camera.
Police said the girl told them that Nuzzolo was acting "very weird." She said he wanted to go get a McFlurry from McDonalds. She said she replied "no."
Nuzzolo then waited for the student at the end of the hallway because he knew she had to walk that way to get to class. He grabbed her and again asked to be taken to McDonalds, according to police.
That's when the student reported being dragged 20-30 feet away from crowds and toward a staircase.
Nuzzolo had worked for the school for two years. School officials said he passed a background check.
He was charged with second-degree unlawful restraint and disorderly conduct.
His bond was set at $5,000.
Copyright 2014 WFSB (Meredith Corporation). All rights reserved.