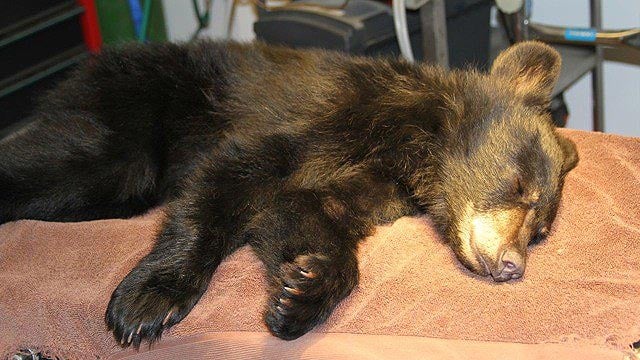 A bear cub found injured on the side of a highway near Payson is recuperating at the Southwest Wildlife Conservation Center in Scottsdale. (Source: Southwest Wildlife Conservation Center)
SCOTTSDALE, AZ (CBS5) -
A bear cub is recuperating at a Scottsdale wildlife sanctuary after he was found by an angler returning from a fishing trip near Payson.
Christopher Morris, of Payson, said he noticed something small, black and furry on the side of the highway and thought it was a dog that had been hit by a car.
He said he thought the animal was dead, but saw the cub's rounded ears and turned around to move it off the road.
He saw the cub was still alive as he approached and with no mother bear in sight, he put the injured cub in his car and tried to find help in the Payson area.
He finally ended up calling the Southwest Wildlife Conservation Center in Scottsdale and drove the cub from Payson in a wire crate, Kim Carr of SWCC said.
SWCC veterinarians X-rayed the cub and found a fracture to his left front leg, but no other injuries, Carr said.
The cub weighed about 20 pounds and is about 4 months old, Carr said.
Cubs usually stay with their mothers until about 2 years old, and SWCC officials said they weren't sure it could be released back into the wild.
Copyright 2014 CBS 5 (KPHO Broadcasting Corporation). All rights reserved.