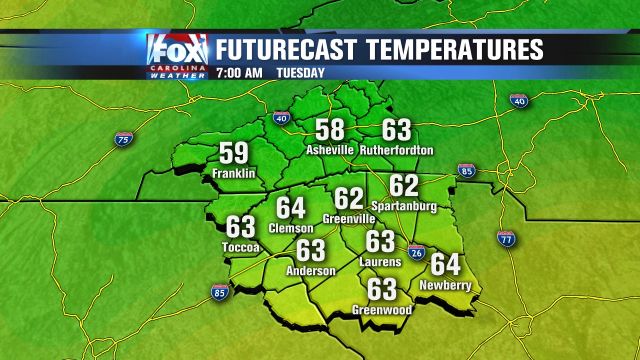 GREENVILLE, SC (FOX Carolina) -
We are in for a stretch of seriously nice weather! Today was a pleasant change from the high humidity and hot temperatures, and Tuesday will be very similar. A cool northeast breeze will continue through mid-week, keeping humidity levels low, rain chances non-existent, and temperatures cooler than normal for this time of year.
Humidity and temperatures will creep up by Thursday and Friday, so it will start to feel more like summer. Our storm threat will remain low through the week, but those pop-up storms are back by the weekend. Of course this is a big weekend, since it's our 3-day Labor Day weekend! I don't expect any day to be a washout at this point. A few pop-up storms will be possible Saturday, with the rain chance at about 20%. A front and upper level disturbance will make a run at the Upstate, mountains and northeast GA on Sunday, and that increases the rain threat to about 40%. By Labor Day, rain chances go back to 20%.
If you are wondering about conditions in Columbia for South Carolina's home opener against Texas A&M, it's looking hot but dry! Highs in the midlands will reach the mid 90s by late Thursday, but luckily the game kicks off around 6, so temps will be steadily cooling through the game.
Clemson vs. Georgia is looking hot and mostly dry as well, but I will say about a 20% chance of rain for that game with a temp around 90 for kick-off. Dress lightly and be sure to drink lots of cool water at the game if you plan to go!