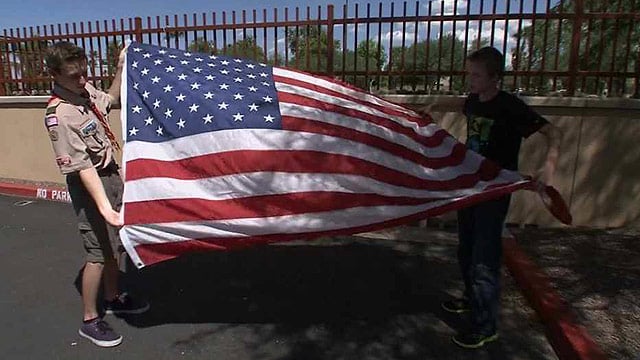 Kyle Tucker, 16, left, had an American flag donated to him by the American Legion. It's supposed to go up at the Arizona Agribusiness and Equine Center in Avondale. (Source: CBS 5 News)
PHOENIX (CBS5) -
A Boy Scout's project to put-up a flag pole at his high school came to a halt, all because a condo association demanded more insurance coverage.

However, the association changed its tune, after receiving pressure from CBS 5 News and other media outlets.

Kyle Tucker, 16, had an American flag donated to him by the American Legion. It's supposed to go up at the Arizona Agribusiness and Equine Center in Avondale.

"We're going to put it right here, in the middle-ish. Right here so all the traffic can see it realize we're a school," Tucker said.

But the condo association's demands almost killed the project, which is one of Tucker's last requirements to advance to Eagle Scout.

School principal Dr. Ramon Ramirez said the Coronado Professional Condominium Association requested an additional half-million dollar rider to their $4 million insurance policy.
The condo association establishes rules for the school and four businesses located in the commercial complex.

"What a cost hullabaloo," Ramirez said. "Why? Why? Why waste this money? It's hard earned money. It's taxpayer's money. Why do that? Just let them put the flag pole up."

Along with getting the flag donated, Tucker already received the necessary city permits, raised $400 cash and found a construction company to donate materials and labor.

Rameriz said despite the runaround, or because of it, Tucker has learned a valuable lesson in leadership.

"A second lesson that this child can learn is about facing bureaucracy. That's all not fair though. We like to think of the more positive that he is learning about leadership and being a leader. But sadly, and I do mean that, sadly, he's learning about red tape," Ramirez said.

Tucker agrees, and said he also learned about the power of media.

After receiving calls from CBS 5 News and other media outlets, the condo association dropped its demands for the rider.

The project is back on.

Copyright 2014 CBS 5 (KPHO Broadcasting Corporation). All rights reserved.