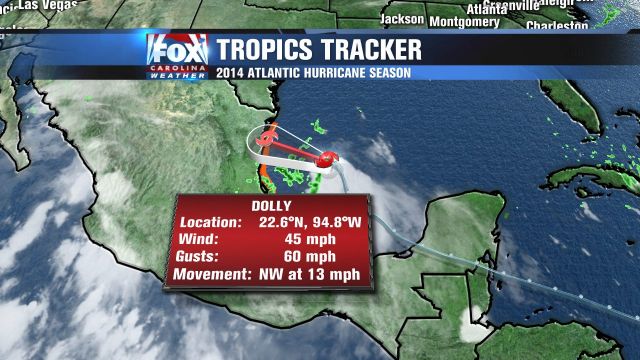 5pm Monday stats on T.D. 5
TROPICAL UPDATE:
A hurricane hunter plane investigated Tropical Depression #5, and determined the central strength put it into Tropical Storm status with 45mph winds. A Tropical Storm forms as soon as the strength reaches 39mph. The storm won't have too much time to organize and strengthen further, as it's already moving toward the coast of Mexico.
There are still areas of significant heavy rain within the storm, so as it makes landfall sometime late tonight, the primary threats will be downpours and mudslides. Areas from Tuxpan to Barra El Mezquital will likely be affected.
Original Story:
Tropical Depression 5 is located in the southern Gulf of Mexico or Bay of Campeche. It is expected to become Tropical Storm Dolly tomorrow before it makes landfall in Mexico late Tuesday night. It has some things working for and against it regarding it's strengthening...
First off, the water is VERY warm. It has been virtually untapped all summer, leaving water temps well into the upper 80s. All you need is around 80 degrees to get tropical development, so these warm waters could really feed the storm.
Secondly, however, the upper level wind environment isn't very favorable for rapid, robust development. This keeps the storm from becoming highly organized, and it has to keep that organized structure to intensify efficiently.
So, it looks like TD 5 will become Tropical Storm Dolly, but probably not strengthen much more from there before it quickly hits Mexico.