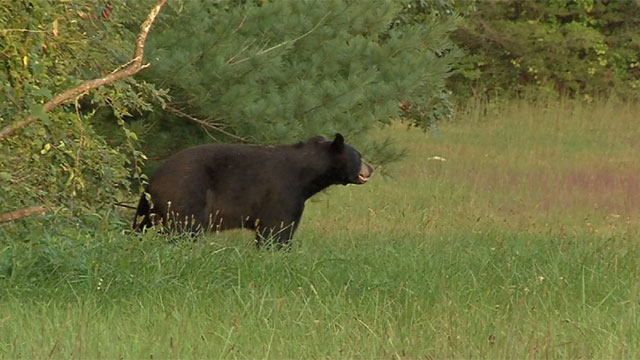 A possibly injured Black Bear was spotted off Route 4 in Farmington (WFSB photo)
FARMINGTON, CT (WFSB) -
Farmington residents are being warned to be on the lookout for a bear on the loose after the animal was spotted on Route 4 on Wednesday morning.
The bear was spotted in the woods off Route 4 near Farmingdale Condominiums around 7 a.m.
Children were waiting in the area to board the school bus. Officers were called to the bus stop to help the students board the bus safely.
"I'm just dropping him off at school. That's scary," father Munish Garg said. "We need to be extra careful now."
The bear, which appeared to be injured, eventually wandered back into the woods and has not been located as of 8:45 p.m.
Experts told Eyewitness News that the bear could reappear again and want drivers and residents to be cautious.
Although police said bear sightings happen from time to time, Wednesday's sighting concerns them because the bear appeared to be limping and it came dangerously close to traffic.
Police said they notified officials at the Connecticut Department of Energy & Environmental Protection and plan to be on the lookout for future sightings.
Anyone with any information about the bear's whereabouts is asked to call the Farmington Police Department at 860-675-2400.
Copyright 2014 WFSB (Meredith Corporation). All rights reserved.