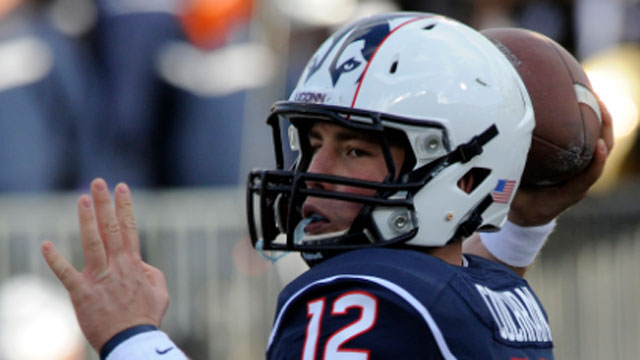 Connecticut quarterback Casey Cochran (12) during Connecticut's 45-10 victory over Memphis in an NCAA college football game, in East Hartford, Conn., on Saturday, Dec. 7, 2013. (AP Photo/Fred Beckham)
STORRS, CT (WFSB) -
The career of the week one starting quarterback for the University of Connecticut Huskies football team is permanently over, according to a release from the school.
Red shirt sophomore Casey Cochran, a Connecticut native, is ending his football playing career after "sustaining multiple concussions."

The decision was made by Cochran and his family, along with guidance from the football program and the UConn Division of Athletics medical staff. They said they "feel it is in the best interest of Cochran" and "focus on his continued well-being."
"A silver lining in this matter is that Casey has an interest in pursuing a career in coaching," said UConn head coach Bob Diaco in a release on Monday. "We can now accelerate his development in that area as he transitions from a player role to a mentor role as he continues to serve the team."
Copyright 2014 WFSB (Meredith Corporation). All rights reserved.