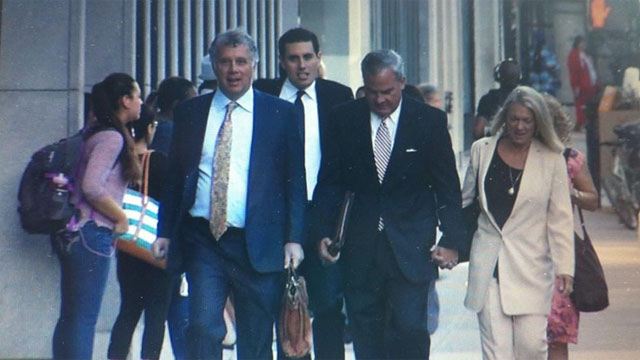 Former Connecticut Gov. John Rowland walks into New Haven Federal Court on Monday with his lawyer and wife, Patty. (WFSB photo)
NEW HAVEN, CT (AP) -
The prosecution has rested its case in the federal campaign corruption trial of former Connecticut Gov. John Rowland.
Rowland faces seven federal charges, including allegations he conspired to hide payments for work he did on the 2012 5th-district congressional campaign of Lisa Wilson-Foley through the consulting deal with a nursing home company owned by her husband, Brian Foley.
On Monday, prosecutors showed the jury a chart showing the hundreds of calls Rowland made to the campaign and the several dozen calls he made to executives at the nursing home company, Apple Health Care.
Rowland's defense attorney contends the Republican did legitimate work for Apple. He planned to call the company's executive vice president, Brian Bedard, as his first witness. He has not said if Rowland plans to testify.
Copyright 2014 The Associated Press. All rights reserved. This material may not be published, broadcast, rewritten or redistributed.