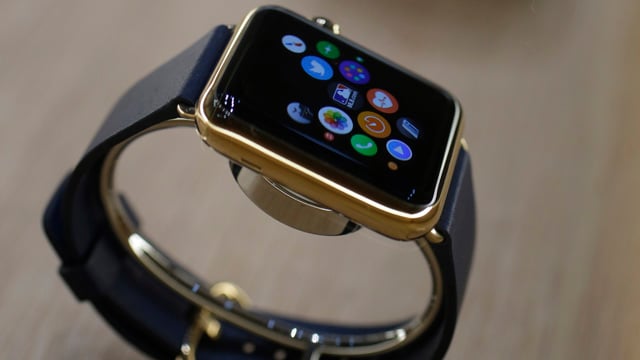 The Apple Watch. (AP photo)
HARTFORD, CT (AP) -
Connecticut Attorney General George Jepsen has raised concerns about the privacy protections with Apple's new Apple Watch.
Jepsen wrote to CEO Tim Cook on Monday asking about the recently introduced product's ability to store, collect and use consumers' health information.
He told Hearst Connecticut Media Group (http://bit.ly/1qaYqEV ) that he's encouraged by Apple's "representations" that personal health information will be encrypted on the Apple Watch and users will decide which applications gain access to their health data.
Still, Jepsen said questions remain about data collection and storage and he's requested a meeting with company representatives.
Jepsen is asking Apple what information the Apple Watch will collect from users and how Apple will obtain consent to collect and share such information.
A representative of Apple did not immediately return a call Tuesday morning seeking comment.
Copyright 2014 The Associated Press. All rights reserved. This material may not be published, broadcast, rewritten or redistributed.